Medal of Merit of the Prime Minister for Prof. Wolfram Neumann
On January 13, 2022, Dr. Reiner Haseloff awarded Prof. Dr. Wolfram Neumann the Medal of Merit of the Prime Minister of Saxony-Anhalt for his special achievements in preserving book culture.
Picture: Hannah Theile (MKM)
The Prime Minister had Prof. Neumann explain in detail the extensive holdings of the Ute and Wolfram Neumann Foundation for the preservation and maintenance of book culture of bibliophilic small book series of the 20th century in the University Library. The nearly 2,000 book series with more than 30,000 volumes reflect the cultural events in Germany from the Empire to the Weimar Republic, the Third Reich, the two German states with their reunification, and the current present. Some of the series date back to the first half of the 19th century and even to the late 18th century and are also used as source material for research in the sociology of literature and cultural history at the university.
Active as a bibliophile collector himself, Prime Minister Haseloff was quickly able to ask in-depth specific questions about individual series and volumes in expert conversation with Prof. Neumann. Accompanied by the Rector of the University, Prof. Jens Strackeljan, the two members of the Foundation's Board of Directors, Ms. Linda Thomas, Director of the University Library, and Prof. Thorsten Unger from the Department of German Studies, as well as the Deputy Director of the Library, Dr. Jürgen Heeg, Prof. Neumann spoke in detail about his findings and experience in building up the collection over decades with outstanding individual items. In a subsequent round of talks, the Prime Minister paid tribute to the social significance of the transfer and transmission of knowledge and, in particular, to Prof. Neumann's activities over many years and the establishment of the Foundation by his wife and him.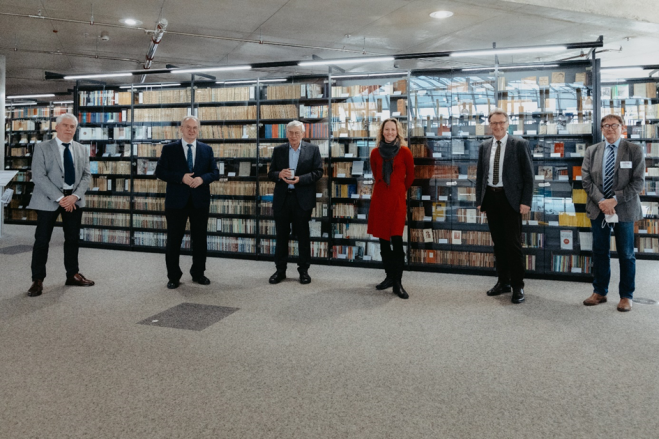 Foto: Hannah Theile (MKM)