New service from June 14: 48 lockers for longer-term storage of work materials.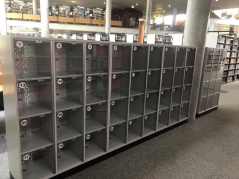 The 48 lockers available on the 1st floor as of June 14, 2021, are an additional service offered by the University Library to improve study conditions. They are used for longer-term storage of students' work materials.
The keys for the lockers are only issued to students of Otto von Guericke University during the service hours at the circulation desk. A valid UniCard (student ID) is required. Only one long-term locker per person will be issued for a period of up to one month.
Valuables, perishable food products as well as titles from the reference collection, books from the semester collections, journal volumes and issues additionally to media that have not been properly borrowed and booked may not be locked in the lockers.
Further information here
Link to online booking here