First carrels equipped with monitors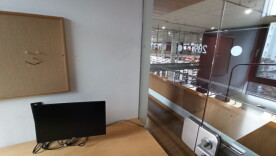 Recently, 20 carrels (rooms 124 to 133 and rooms 201 to 210) have been equipped with monitors (22 and 24 inches). Users can connect their own devices, such as laptops, with the HDMI cables provided. The monitor position can be adjusted horizontally to allow for greater flexibility of use.
Please provide us with brief feedback on the equipment of the carrels with monitors and your usage experience at bibliothek@ovgu.de.
In 2022, it is planned to equip all carrels with monitors in order to offer an even better learning and working environment for our users.