Virtual Exhibition "Hotspots for Freshmen"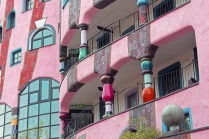 The COVID pandemic has interrupted normal (campus) life. Especially for freshmen, this means they can't get to know the new city and people the way they did in previous years.
The apprentices at UB Magdeburg worked on exactly this problem during their project week this year and created a virtual exhibition about the city of Magdeburg called "Hotspots for Freshmen - Sights for Magdeburg Students". Take a look...